What's Mark McKnight's Blog All About?
If you want to make money online, you're in the right place. Have you ever thought about how you could make enough money from an online business to:
Quit the Rat Race
Supplement your current income
Be your own boss
Buy a new car
Work from home while looking after your kids
Become financially free
I want to help you achieve your online business goals and show you how I make 4 figures per month online from affiliate sales through programs like Amazon Associates, Google Adsense & Clickbank.
Who Is Mark McKnight?
Welcome to my website. So what can I tell you about myself?
Well, I'm just a regular family man from Ballyclare in Northern Ireland who has a passion for internet business and making money online.
I don't just talk the talk, I also walk the walk and run a successful, profitable online business with a portfolio of websites in various niches.
I'm not an internet millionaire and I don't own a sport's car. I'm also not retired and still work full time for a large company and enjoy my job.
What I do have is an extra income that allows me to have an above average lifestyle with all the toys and gadgets I want. I also have a lovely wife and two great children and this extra money allows us to go on more family holidays and generally spend some time enjoying ourselves.
How I Got Started Back In February 2008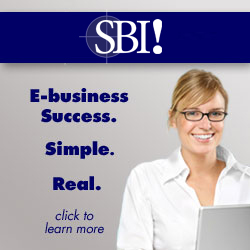 I took my first steps in online business in February 2008.
I always wanted to have my own business, but I didn't have the courage to just give up my full time, reasonably secure, job and dive straight in.
That's one of the problems with running a normal bricks and mortar type business. It's usually all or nothing and most fail within the first year.
I couldn't afford to take the risk. I had a mortgage and other bills to pay along with my first child on the way.
I needed something that I could get started, test and build in my spare time that could also be developed into something more in the future if I wanted it to.
After some research online for part time business opportunities, I stumbled across a company called Sitesell.com and their internet business building tool, SiteBuildIt!
It ticked all the boxes and I decided to give it a shot. I was a bit apprehensive about the initial $299 sign-up fee, but they offered a risk-free 90 day refund if it didn't work out.
This made registering a little bit easier, but I still didn't know anything about this company and whether they were legitimate or not.
There are so many scams on the net and it's hard to know who you can trust. To be extra safe I used my credit card to sign-up.
That way if there was something dodgy, I'd have the protection of a large credit card company and be less likely to lose my money. (Luckily I didn't need this extra protection as Sitesell.com turned out to be a highly reputable and ethical company.)
Northern Ireland Travel Is Born
My first website was a travel and tourism related site about Northern Ireland called Northern-Ireland-Travel.com.
I had great fun learning how to build a new website and business around one of my favorite topics and I soon had about 30 pages built.
I mainly used Google Adsense to monetize the pages and after a few months it was paying for itself. It was only costing me $299 per year to run as SBI came with all the tools I needed and I was earning around $30 per month from the site after about 6 months from Google ads.
It wasn't a huge amount but it was proof for me that running an internet business was definitely possible. I made a few mistakes with this first site and although it was profitable and growing well, I decided to start another as well, still using SBI, because it works.
Before I move on, I want to briefly mention the mistakes I made on this first project and what I learned from them. Although this website is still profitable today, I could see early on that it was never going to be a big earner.
Why? There isn't enough demand for a travel website in Northern Ireland. Another reason is that there aren't enough ways to monetize the visitors.
I made the mistake of not fully following the SBI Action Guide and the advice it gives for supply/demand and sourcing multiple methods of monetization before you even start to build.
The moral of the story is always follow the action guide.
Furthermore, you have to actually get something started and if you don't take action and get started on your business building journey you won't have anything at all.
Take Two – Digital Photography Tricks
After my first attempt at making money online with a website went reasonably smoothly, I decided to have another go.
This time I wanted to build something around my other passion of digital photography.
Learning from my previous mistakes, I made sure that the demand was high enough before I started and there was plenty of ways of making money from all the effort and hard work. (I also made some mistakes during this project that eventually affected the whole site, but I'll tell you about those later and what I learned).
As the SBI Action Guide recommends I included my site concept keyword (Digital Photography) within the domain name and came up with Digital-Photography-Tricks.com.
This website worked really well and became profitable after about four months.
I was making money from Google Adsense, Clickbank and Amazon.com. Google provided a stable monthly income for the site while Clickbank and Amazon sent me a check every few months.
Things were going well and as this site entered its second year, it was receiving around 500 unique visitors per day.
I was starting to enjoy my internet journey now and after reading Tomaz Mencinger's blog on financial freedom and how well his Vacuum Cleaner reviews website was doing, I decided to start a third site about Lawn Mower Reviews. I called it MowerWizard.com.
MowerWizard.com – My Third SBI Project
I started this website in December 2009 with a buy one get one free offer from Sitesell. They usually have this offer on every Christmas so I knew it was coming.
I decided to model my site on Tomaz's as he was having so much success in the reviews market.
I brainstormed all the available keywords on lawn mowers and after some thorough research decided to make every brand of mower in the US market a tier 2 page.
For example: Honda Lawn Mowers, Toro Lawn Mowers, John Deere Lawn Mowers, etc.
I also outsourced this complete project to a writer from Need An Article. The only page I wrote was the homepage.
I sent the main keywords for the other pages to the Need An Article writer and asked her to write around 500 words about that topic.
It was costing me about $7.50 per page, but I wanted it done quickly so I could get the site up and running to make money.
The site was almost a success from the beginning with revenue growing every month. This was mainly due to the fact that I had almost 30 pages built within the first month.
This site eventually peaked in May 2010 when it made $600 in one month from Google Adsense.
It was also making money from Amazon.com through referrals for lawn mower sales and was receiving around 1000 unique visitors every day.
It continued to do well right through the summer months then faded in the winter to around 500 visitors per day.
That was until February 2011 and the Google Panda struck. The traffic stared falling each day and it didn't really recover after that.
To this day, MowerWizard.com is still profitable, but making nowhere near the revenue that it once generated.
Another Money Making Project That Was Successful
In September 2011 I discovered Niche Profit Classroom through Allan Gardyne's blog Associate Programs.
I joined up and within a few weeks had built three successful sites using the Niche Profit Shortcut method.
Out of the three NPS websites I built, HPOfficejet4500.net performed the best. In December 2011 it made $150 from Google Adsense alone.
I was really pleased with the progress I'd made, but it didn't last long as a few months later Google brought out another algorithm update called Penguin which destroyed this method of using exact match domains for ranking higher in the search engines.
What Have I Learned And How Can It Help you?
High quality content rules above everything else. If you want your blog or website to be the best, you have to write it yourself.
It's your unique voice and style that your readers like, not how good your grammar is.
Don't outsource your content to a freelance writer. They won't be able to deliver the same been there, done it experience that you can.
Don't waste time or money on link building. If you provide good quality content that your readers love, they will share it for you through social media and other methods and build your incoming links.
This is how Google and the other search engines want it to be.
It's OK to build a few high quality links after you've produced some content to get the ball rolling, but after that let it be natural.
Make sure there is demand for your content or services. The more demand, the better. If you provide high quality content, you won't have to worry about how much competition there is in your niche.
People will find you and stick with you because you provide quality material and are credible.
The last lesson is to make sure there are multiple ways to make money in your niche.
One or two is no good. I would recommend at least ten different methods of monetization.
Some Deviations To My Plan
Today I make most of my money from niche affiliate sites and Amazon Associates.
This is the method of making money online I'm going to teach you.
These little sites can earn between $100 and $1000 per month and if built correctly are future proof against any new Google updates.
What makes my method different is that I encourage my visitors to join a mailing list and whatever Google does to my website, they can't take that list away.